Telit Wireless Solutions Inc
LE910C4-NF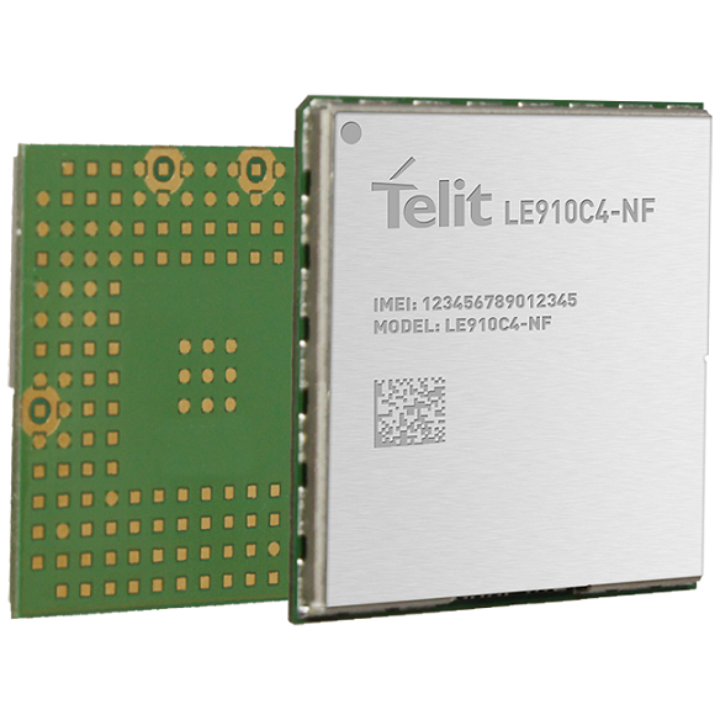 Contact manufacturer
Sales
Address
5425 Page Rd, Suite 120, Durham, NC, 27703
LE910C4-NF
Key features
Embedded GNSS solution.
Over-the-Air firmware update.
Internet friendly with integrated TCP/IP and UDP/IP stacks.
Easy to integrate with peripherals using USB 2.0 HS, UART and user definable GPIOs.
See more
Product description
The LE910C4-NF industrial-grade LTE Category 4 module complies with 3GPP Release 10 and is available with optional quad-constellation GNSS capability. The LE910Cx-NF compact, LGA-packaged module series is available in configurations supporting both multi-mode and fallback as required by North American carriers, with features and specifications targeting public safety system integrators and solution providers in the U.S.


See more
Overview
Network technology

LTE with GSM/UMTS

LTE category support

Cat 4

Form factor

Surface Mount / Soldered
Hardware & Network
Features
UDP

Checked

TCP

Checked

UART

Checked

GPIO

Checked

Serial

Checked

GPS

Standalone

LTE

Band2 (1900 MHz)

Band4 (1700 MHz)

Band5 (850MHz),

Band13 (700 MHz)

Band66 (1700 MHz)

LTE Global / Roaming

Band14 (700 MHz)
Software
FCC ID
RI7LE910CXNF
FoTA For Baseband/Modem Software Update Capability
Verizon FoTA Solution and Non Verizon FoTA solution (combined)
FoTA Client Type
OMADM
Other features
Voice capable

Checked

Native IM client

Checked

Battery safety

Checked

SMS Capability

Checked

Developer Kit

Checked

ALO (Airborne LTE Operations)

—

Diagnostics

—

Global Capable

Checked

eUICC

—

On Site LTE/5G

—

Wireless Private Network

Checked
Chassis & power source
Dimensions
28.2x28.2x2.2 in.
Relative humidity
—
Stored temperature
-40 °C to +85 to
Operating temperature
-10°C to
Weight
—
Voltage supply
3.3 - 4.2 VDC
Power consumption
—
Contact
Website
Sales
Address
5425 Page Rd, Suite 120, Durham, NC, 27703
Phone
Email
Technical support
Address
5425 Page Rd, Suite 120, Durham, NC, 27703
Phone
Email